Motors produced for the WTIV market
The WTIV market is expected to continue growing for years to come, with next-generation vessels to be equipped for larger wind turbines installed in deeper waters. Wölfer has set up its production to cater to this industry.
In designing hoist motors for maritime applications, two sets of challenging requirements must be combined in order to achieve high-quality motors that ensure operator safety, overload capacity and efficiency over a long lifetime. Wölfer motors provide their rated performance over the full control range, thus ensuring full functionality of the entire system under harsh marine conditions.
Inhouse production – motors made in Germany
The rugged, steel-welded motor casings and dedicated rotor constructions are produced inhouse and the motors are fitted with a C5M surface finishing to ensure full compliance with maritime and hoist requirements.
Wölfer has been one of the quality and technology leaders in the manufacture of motors for hoist applications for more than 70 years. Our motors are completely manufactured in Germany.
Tested standards and classifications
The motors are to comply with Det Norske Veritas (DNV) standards, which Wölfer will certify inhouse. The motor manufacturer performs all acceptance tests in its own state-of-the-art testing station: heat runs, vibration measurements, overload tests and no-load tests at full power.
Tested standards and classifications include, but are not limited to, DIN EN 60034, UL – CSA, Bureau Veritas (BV), Lloyd's Register (LR), American Bureau of Shipping (ABS), Russian Maritime Register of Shipping (RMROS), China Classification Society (CCS), Korean Register of Shipping (KRS) and Nippon Kaiji Kyōkai (NK). With this global approach, Wölfer is excellently positioned as a reliable partner for the booming offshore renewable energy sector.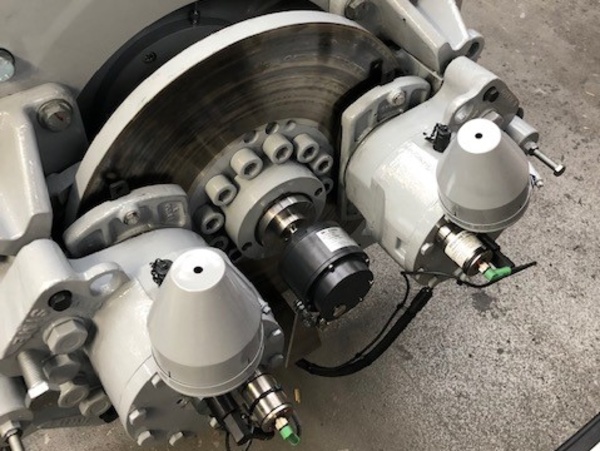 Special features for the WTIV application
Special features for the WTIV application include the innovative Altra caliper brake to realize extremely dynamic brake torques given the heavy payloads.Here, in contrast to existing solutions with enclosed brakes, the brake disk is mounted directly on the motor shaft and engaged by means of hydraulic shoe brakes.
Technical data of the threephase-squirrel-cage-motors
Main hoist and boom hoist motors
Type: threephase-squirrel-cage-motors
Rated Power: 0 - 510 kW
Voltage: 690 V
Frequency: 0 - 115 Hz
Poles: 6
Rated Speed: 0 - 2280 min-1
Mounting: IM B5
Protection: IP 56
Cooling: IC 416
Whip hoist motors
Type: threephase-squirrel-cage-motors
Rated Power: 0 - 500 kW
Voltage: 690 V
Frequency: 0 - 110 Hz
Poles: 6
Rated Speed: 0 - 2200 min-1
Mounting: IM B5
Protection: IP 56
Cooling: IC 416
Utility Hoist and Tugger motors
Type: threephase-squirrel-cage-motors
Rated Power: 100 kW
Voltage: 690 V
Frequency: 0 - 110 Hz
Poles: 6
Rated Speed: 0 - 2200 min-1
Mounting: IM B5
Protection: IP 56
Cooling: IC 410
Slewing motors
Type: threephase-squirrel-cage-motors
Rated Power: 188 kW
Voltage: 690 V
Frequency: 0 – 76,6 Hz
Poles: 4
Rated Speed: 0 - 2211 min-1
Mounting: IM V1
Protection: IP 56
Cooling: IC 416